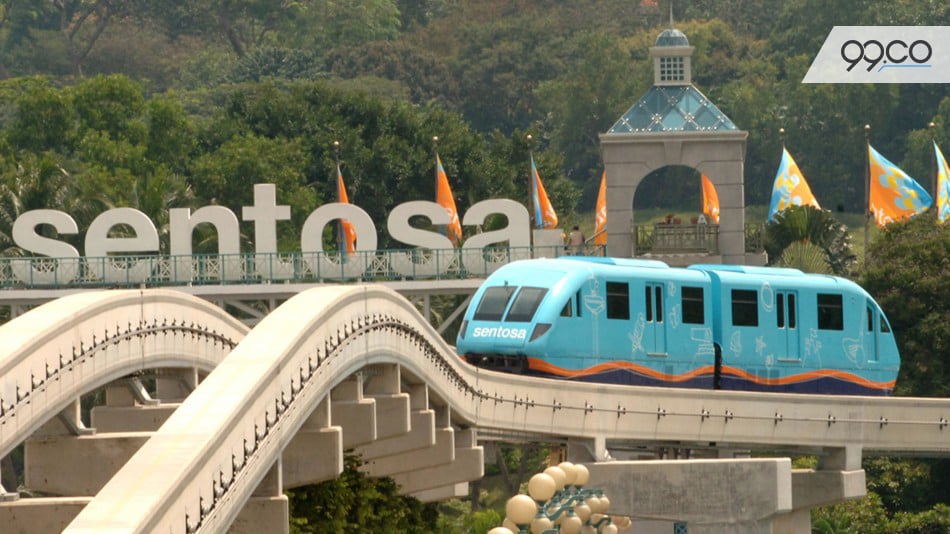 Sentosa Cove is practically synonymous with "rich". This is where, in 2012, a bungalow sold for $39 million For comparison, you can buy a nuclear proof NATO submarine base for around $6 million less If there are hobos in Sentosa Cove, they're getting drunk on champagne and have gold gilding on their cardboard boxes. So why are residents in arms over a few dollars?
The shuttle bus battles of Sentosa Cove
Sentosa Cove has an accessibility problem. If you live there, it's pretty much assumed that you can afford a car. So the majority of services into Sentosa, including its shuttle bus, come with fees attached.
A group of Sentosa Cove residents has been unhappy about this for a while, since it means friends have to pay about $4 to visit them. In fact, a particular blogger got a storm of Internet hate by posting about it, as far back as 2011.
And now, half of you are typing angry remarks about self-entitled rich people in our comments box. Chill the heck out, give me five minutes to finish.
Okay? Had a little head massage and a sip of JD? Good, here's the situation now:
The shuttle bus for the residents is going to charge them, the people already living on Sentosa Cove, 90 cents starting in December. Previously, the shuttle bus for residents was free.
This has gotten a small protest off the ground, with residents objecting on principle (obviously, they can afford 90 cents.) The two main areas of contention seem to be:
The short notice given, which is seen as impunity
The principle that residents shouldn't pay for access to their own property
1. The short noti

ce given, which is seen as

impunity
One of the Sentosa Cove residents, who declined to be named, responded to my e-mail enquiry about why 90 cents matters. From the resident's perspective:
"It's not about whether it's 90 cents or not. I was informed only weeks ago. There was no explanation or consultation. There should be more regard for the people who live here.
At the end of the day I'm not going to make a deal out of it. But I do think there's some impunity in the decision making. I think if they did it in any other condo, they suddenly charge for the shuttle bus, there would be complaints as well."
2.

The principle that residents shouldn't pay for access to their own property
This point is largely similar to the one in that angry blog post from 2011. If some of the residents were unhappy that friends had to pay them, making them pay to use their shuttle bus antagonises them even more. There is a general sense, among these residents, that they should not be charged for access to their own homes.
Of course, from another perspective, the rest of us pay fares to use the train and bus to get to our homes as well.
(Okay, now please post a comment on what you think!)
Is it right that Sentosa Cove residents are charged for their shuttle bus service? Let us know what you think. Also, if you're interested in renting or staying at luxury properties, check out some great options at 99.co. It's 90 cents cheaper than a resident's ride to Sentosa Cove.